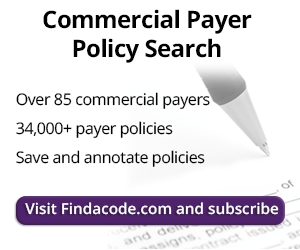 Documentation of E/M services for Neurology (Don't Forget the Cardiology Element)
June 13th, 2019 - Chris Woolstenhulme, QCC, CMCS, CPC, CMRS
0 Votes -

Sign in

to vote or comment.
---
According to Neurology Clinical Practice and NBIC, the neurologic exam is commonly lacking in documentation due to the extensive requirements needed to capture the appropriate revenue.
With the lack of precise documentation, it results in a lower level of E/M than that which is more appropriate, which can cost a physician a lot of lost revenue. The E/M Evaluation and Management codes are based on medical complexity or time spent on care. The 1997 guidelines were revised to include a new general multi-system examination and several single organ system examinations, one of which is neurology.
The clinical neurology exam has 25 elements with 22 neurologic exam findings. This also includes 3 elements of the cardiovascular examination. If any part is omitted or there is not one cardiology element reported, then the comprehensive examination cannot be reported and you must drop it to the next level down. For the Cardiology element to be complete you only need 1 element to report a comprehensive exam using 99222 or 99223, however, you can report 1-3 elements.
97 Guidelines for Neurology E/M Exam
Neurological Evaluation of higher integrative functions including:
Orientation to time, place and person
Recent and remote memory
Attention span and concentration
Language (eg, naming objects, repeating phrases, spontaneous speech)
Fund of knowledge (eg, awareness of current events, past history, vocabulary)
Test the following cranial nerves:
2nd cranial nerve (eg, visual acuity, visual fields, fundi)
3rd, 4th and 6th cranial nerves (eg, pupils, eye movements)
5th cranial nerve (eg, facial sensation, corneal reflexes)
7th cranial nerve (eg, facial symmetry, strength)
8th cranial nerve (eg, hearing with tuning fork, whispered voice and/or finger rub)
9th cranial nerve (eg, spontaneous or reflex palate movement)
11th cranial nerve (eg, shoulder shrug strength)
12th cranial nerve (eg, tongue protrusion)
Examination of sensation (eg, by touch, pin, vibration, proprioception)
Examination of deep tendon reflexes in upper and lower extremities with notation of pathological reflexes (eg, Babinski)
Test coordination (eg, finger/nose, heel/knee/shin, rapid alternating movements in the upper and lower extremities, evaluation of fine motor coordination in young children)
Cardiovascular
Examination of carotid arteries (eg, pulse amplitude, bruits)
Auscultation of heart with notation of abnormal sounds and murmurs
Examination of peripheral vascular system by observation (eg, swelling, varicosities) and palpation (eg, pulses, temperature, edema, tenderness)
Constitutional
Measurement of any three of the following seven vital signs: 1) sitting or standing blood pressure, 2) supine blood pressure, 3) pulse rate and regularity, 4) respiration, 5) temperature, 6) height, 7) weight (May be
measured and recorded by ancillary staff)
General appearance of patient (eg, development, nutrition, body habitus, deformities, attention to grooming)
Eyes
Ophthalmoscopic examination of optic discs (eg, size, C/D ratio, appearance) and posterior segments (eg, vessel changes, exudates, hemorrhages)
https://www.cms.gov/outreach-and-education/medicare-learning-network-mln/mlnedwebguide/downloads/97docguidelines.pdf
###
Questions, comments?
If you have questions or comments about this article please contact us. Comments that provide additional related information may be added here by our Editors.
Latest articles: (any category)
Act Now on CMS Proposal to Cover Acupuncture for Chronic Low Back Pain
July 17th, 2019 - Wyn Staheli, Director of Research
Now is the time to comment on a proposal to cover acupuncture for chronic low back pain. This comment period is the part of the HHS response to the opioid crisis. You only have until August 14th to officially comment.
Denial Management is Key to Profitability
July 15th, 2019 - Wyn Staheli, Director of Research
A recent article by Modern Medicine cited a report by Becker's Hospital Review which stated that it costs approximately $118 per claim to resolve a claim denial. Granted, these were hospital claims, but the process is essentially the same for outpatient services. In fact, you could say it is...
Q/A: Do I Use 7th Character A for all Sprain/Strain Care Until MMI?
July 15th, 2019 - Wyn Staheli, Director of Research
Question: It is in regards to the Initial and Subsequent 7th digit (A and D) for sprains and strains. Recently, I have been told that I should continue with the A digit until the patient has reached Maximum Medical Improvement (MMI) and then switch over to the D place holder. Is ...
The Importance of Medical Necessity
July 9th, 2019 - Marge McQuade, CMSCS, CHCI, CPOM
ICD-10-CM codes represent the first line of defense when it comes to medical necessity. Correctly chosen diagnosis codes support the reason for the visit as well as the level of the E/M services provided. The issue of medical necessity is one of definitions and communication. What is obvious to the ...
When Can You Bill Orthosis Components Separately?
July 9th, 2019 - Wyn Staheli, Director of Research
Othoses often have extra components. When can you bill those components separately? For example, can you bill for a suspension sleeve (L2397) with a knee orthosis (e.g., L1810)?
Q/A: Can I Put the DC's NPI in Item Number 24J for Massage Services?
July 8th, 2019 - Wyn Staheli, Director of Research
Question: Are there scenarios in which it is acceptable to put the DC's NPI in box 24j for massage services? Answer: While the answer to this is yes, it is essential to understand that there are very limited scenarios. In most cases, Item Number 24J is only for the NPI of the individual ...
Will the New Low Level Laser Therapy Code Solve Your Billing Issues?
July 8th, 2019 - Wyn Staheli, Director of Research
Low level laser therapy (LLLT), also known as cold laser therapy, is a form of phototherapy which uses a device that produces laser beam wavelengths, typically between 600 and 1000 nm and watts from 5–500 milliwatts (mW). It is often used to treat the following: Inflammatory conditions (e.g., Rheumatoid Arthritis, Carpal ...