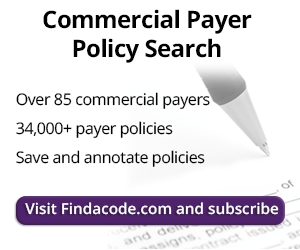 Preventive medicine and office visit, same day
June 1st, 2015 - Codapedia Editor
1 Vote -

Sign in

to vote or comment.
---
Can I use modifier 25 on an E/M service on the same day as a preventive medicine exam
Let's review what a preventive medicine service is, in order to answer that question. Preventive medicine services are:
• The description given by CPT® for "annual physicals"
• Divided into new and established patient visits
• Categorized by the age of the patient
• Individually listed, with RVUs in chart in appendix
• 99381—99387 for new patient, preventive medicine, delineated by age
• 99391—99397 for established patient, preventive medicine, delineated by age
A preventive medicine service includes:
• Age/gender appropriate comprehensive history and physical exams
• Require anticipatory guidance and risk factor reduction
• Referral for/provision of screening tests and immunizations
• Include treatment of existing problems that "do not require significant extra work"
• Separate payment (per CPT) is allowed for vision, hearing and screening tests, although not all payers pay based on CPT® rules
• Typically, tympanometry is paid separately, but the vision screening (99173) may not be (Although it should be, per CPT
• Many visits have components of both preventive medicine services and "sick" visits
Bill a self pay patient or a commercially insured patient both a preventive medicine and office visit when: (Medicare and Medicaid have their own rules, of course!)
The provider performed significant additional work and documented that work. This could be for a new onset problem or deteriorated existing problems
The History of the Present Illness shows this extra work by describing the patient's symptoms. (He reports that for the last 4 weeks he has had increasing….made worse by….He relates the start to an episode….) Or, document the patient's chronic diseases (Her BP readings at home are not good, although she continues on…. We have checked her machine with ours in the office…. She also reports that her osteoarthritis is not in good control and the medication…. In the morning, especially…..) Show the extra work. "Patient with a history or XYZ is doing well at home" is not extra work.
Assessment and plan shows management of these problems. If the assessment and plan relates entirely to health maintenance (She refuses a colonoscopy but we gave her a flu shot today. She's scheduled for a mammogram and DEXA scan" that does not show the need for an office visit on the same day. "I sent her for STAT labs, xrays…" "I adjusted her hypertension medicine and asked her to come back every week for the next few weeks to have it checked in our office."
Can you get paid for both?
• Varies by insurance company
• A separate note helps you to select the level of service for the non-preventive medicine portion of the service
• A separate note shows the insurance company the significant extra work you performed—although it is not required by CPT
CPT® says: "If an abnormality/ies is encountered or a preexisting problem is addressed in the process of performing this preventive medicine evaluation and management service, and if the problem/abnormality is significant enough to require additional work to perform the key components of a problem-oriented E/M service, then the appropriate Office/Outpatient code 99201-99215 should be reported. Modifier 25 should be added to the Office/Outpatient code to indicate that a significant, separately identifiable E/M service was provided by the same physician on the same day as the preventive medicine service. The appropriate preventive medicine service is additionally reported."
###
Questions, comments?
If you have questions or comments about this article please contact us. Comments that provide additional related information may be added here by our Editors.
Latest articles: (any category)
A 2020 Radiology Coding Change You Need To Know
February 10th, 2020 - Aimee Wilcox, CPMA, CCS-P, CST, MA, MT, Director of Content
The radiology section of the 2020 CPT© has 1 new, 18 revised, and 14 deleted codes. Interestingly, six of the 14 deleted codes were specific to reporting single-photon computerized tomographic (SPECT) imaging services of the brain, heart, liver, bladder, and others. If your organization reports radiology services, it is...
Documenting telephone calls at your dental practice is just as important as documenting patient visits.
February 4th, 2020 - Christine Taxin
Documenting telephone calls at your dental practice is just as important as documenting patient visits. Similar to other documentation, the common rule when it comes to call documentation is that if it is not documented, it did not happen. Therefore, every clinically relevant telephone call should be documented. Clinically relevant calls ...
Medicare Announces Coverage of Acupuncture Services
January 30th, 2020 - Aimee Wilcox, CPMA, CCS-P, CST, MA, MT, Director of Content
On January 21, 2020, a CMS Newsroom press-release read, This new announcement is both exciting and refreshing. Acupuncture, a key component of traditional Chinese medicine and most commonly used to treat pain, is now being officially recognized by Medicare and several other large payers as a covered, alternative treatment option for ...
CPT 10-Year Historical Content - Now Available!
January 22nd, 2020 - Find-A-Code
Did You Know? We now offer Historical CPT Content in 2-year, 5-year, or 10-year options! Utilize access to specific CPT historical data for previous years using rules effective at that specific time. If you've added UCR fees to your account, you can use Historical CPT Content to view UCR fees from ...
Inadequate Exclusion Screenings Could Put Your Practice at Risk
January 21st, 2020 - Wyn Staheli, Director of Research
Exclusion screenings require far more than just checking a name on a federal database at the time you are hiring someone. Far too many providers don't realize that in order to meet compliance requirements, there is MUCH more involved. There are actually over 40 exclusion screening databases/lists that need to be checked.
Q/A: How do we Bill Massage Services?
January 21st, 2020 - Wyn Staheli, Director of Research
Question: We are adding a massage therapist soon and have some questions about billing their services.
Billing for Telemedicine in Chiropractic
January 14th, 2020 - Evan M. Gwilliam DC MBA BS CPC CCPC QCC CPC-I MCS-P CPMA CMHP
Many large private payers recognize the potential cost savings and improved health outcomes that telemedicine can help achieve, therefore they are often willing to cover it. While there are several considerations, there could be certain circumstances where telemedicine might apply to chiropractic care.