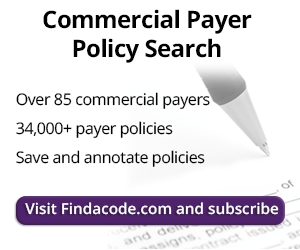 Auditing Ophthalmology and Optometry Exams
April 19th, 2019 - Namas
0 Votes -

Sign in

to vote or comment.
---
Auditing Ophthalmology and Optometry Exams
If you work in an ophthalmology group or audit ophthalmology then you are most likely aware of the caveats that exist in this specialty. Ophthalmology and Optometry practitioners can select from either the E/M code set or the Ophthalmologic exam code set. Having this knowledge in your pocket allows you to have a great opening discussion with a practice prior to beginning your audit. In most scenarios, practices decide on the code set they use depending on insurance payer. Others may decide depending on the conditions they are treating. Having this information prior to an audit will reduce the possibility of you second guessing which should have been used during your audit. All in all, it still all comes down to documentation.
Ophthalmologic Services Code Set
New patient codes 92002 and 92004, established patient codes 92012 and 92014 are distinguished as intermediate or comprehensive exams. The most common misconception of the difference between these exams is that the comprehensive exam requires dilation and the intermediate exam does not. The major difference between these two codes is that the comprehensive exam includes the initiation of a diagnostic treatment program. The comprehensive exam also contains 12 exam elements:
Visual acuity;
Gross visual fields;
Extraocular motility;
Conjunctiva;
Ocular adnexa;
Pupils and iris;
Cornea, using a slit lamp;
Anterior chamber, using a slit lamp;
Lens;
Intraocular pressure;
Optic nerve discs;
Retina and vessels.
So how do we define the initiation of a diagnostic treatment program? It includes a prescription of medication (including glasses), arrangement of special ophthalmological diagnostic or treatment services, arranging for consultations, laboratory procedures or radiologic procedures.
An intermediate exam consists of less than the 12 elements and does not require the initiation of a diagnostic treatment program. Dilation can also be done in an intermediate exam.
E/M Services Code Set
New patient codes 99201-99205 and established patient codes 99212-99215 can also be selected, but the use of them requires adherence to the established 1995 or 1997 E/M Coding Guidelines as well as being supported by medical necessity. As an auditor, this is where I find much of the coding errors, as either the documentation does not support the level of service, or the medical necessity does not support the level of service. In new patient visits documentation needs to include:
Chief compliant; history of present illness; past, family and social history; and a review of systems;
Examination;
Medical decision making.
Also, we need to consider medical necessity. For a level 3 visit we need to support an acute uncomplicated problem or a chronic stable problem. For a level 4 visit we need to support an acute problem with complicating factors, a chronic exacerbated problem, or two or more stable chronic conditions. As always, to support a level 5 service we need either an acute or chronic problem that is posing a threat to life or limb.
Diagnostic Testing
Pachymetry, fundus photography, visual field testing, OCT, TearLab, or GDX are all separately reportable, but remember that the interpretation and report of these procedures must be included in your documentation. Should the EMR software not have the capability to embed this information into the encounter note, make sure that it is added to the documentation you receive to audit. This is also a good tip for your clients, should the software not be able to add this information into the encounter notes, should they need to send records to an insurance carrier, they need to know to include the added documents.
###
Questions, comments?
If you have questions or comments about this article please contact us. Comments that provide additional related information may be added here by our Editors.
Latest articles: (any category)
Don't Let Your QPro Certification(s) Expire! Your Certifications Matter!
June 20th, 2019 - Chris Woolstenhulme, QCC, CMCS, CPC, CMRS
Hello QPro Members, Just a friendly reminder!                                                                                        ...
How to Properly Report Monitoring Patients Taking Blood-thinning Medications
June 18th, 2019 - Wyn Staheli, Director of Research
Codes 93792 and 93792, which were added effective January 1, 2019, have specific guidelines that need to be followed. This article provides some guidance and tips on properly reporting these services.
A United Approach
June 14th, 2019 - Namas
A United Approach As auditors, we all have a different perspective when evaluating documentation. It would be unreasonable to think that we all view things the same way. In my opinion, differing perspectives are what makes a great team because you can coalesce on a particular chart, work it through and ...
Documentation of E/M services for Neurology (Don't Forget the Cardiology Element)
June 13th, 2019 - Chris Woolstenhulme, QCC, CMCS, CPC, CMRS
According to Neurology Clinical Practice and NBIC, the neurologic exam is commonly lacking in documentation due to the extensive requirements needed to capture the appropriate revenue. With the lack of precise documentation, it results in a lower level of E/M than that which is more appropriate, which can cost a physician a lot ...
Medicare Now Reimburses for Remote Monitoring Services (G2010)
June 13th, 2019 - Aimee Wilcox, CPMA, CCS-P, CST, MA, MT, Director of Content
Medicare's 2019 Final Rule approved HCPCS code G2010 for reimbursement, which allows providers to be paid for remote evaluation of images or recorded video submitted to the provider (also known as "store and forward") to establish whether or not a visit is required. This allows providers to get paid for ...
Now is Your Chance to Speak Up! Tell CMS What You Think!
June 13th, 2019 - Chris Woolstenhulme, QCC, CMCS, CPC, CMRS
CMS is asking for your input, we all have ideas on how we would change healthcare documentation requirements and get rid of the burdensome requirements and regulations if it were up to us, so go ahead, speak up! Patients over Paperwork Initiative is being looked at to help significantly cut ...
Spotlight: Anatomy Images
June 13th, 2019 - Brittney Murdock, QCC, CMCS, CPC
When viewing CPT codes, Find-A-Code offers detailed anatomy images and tables to help with coding. For example 28445 offers a table with information to assist classification of gustilo fractures: Click on the image preview from the code information page to expand the image.