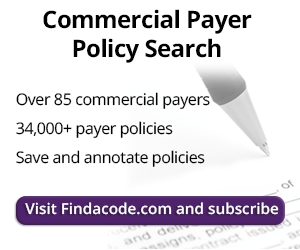 Modifier 52 vs. 53
December 29th, 2015 - Seth Canterbury, CPC, ACS-EM
0 Votes -

Sign in

to vote or comment.
---
So you've read the descriptions for both Modifiers 52 and 53, but you're still on the fence as to which one is appropriate for a certain surgical case. This brief article will try to better differentiate between these two often-confused modifiers.
Modifier 53 is appropriate when a procedure is discontinued due to "an extenuating circumstance or one that threatens the well-being of the patient," and this physician decision always happens after the procedure has begun in cases where Modifier 53 is appropriate. Often times the decision is made so early in the procedure that only an initial incision has been made but no specific work (as stated in the description of the code that was to have been used) has been accomplished. A re-scheduling of the entire procedure will often be necessary once the reason for the termination is evaluated and resolved, as the original reason for the surgery still exists and still needs surgical treatment.
Modifier 52 is used when a physician elects to partially reduce or eliminate a procedure, often (but not always) making this decision before the procedure has even begun. However, something (usually the majority of the work included in the description of the code) is still accomplished in situations where Modifier 52 is appropriate. In some cases, performance of the "reduced" or "eliminated" portion may be done at a later surgery. In other cases, this omitted portion of the service will not be performed at a subsequent operation. Performance of the omitted portion may not be possible because the structure is no longer present (was previously excised) or it is not simply not medically necessary to do this portion of the service.
Here's where it can get a bit confusing: It is possible that a decision could be made by the physician mid-procedure, after doing the majority of the work described by a code, to "eliminate" what was to have been the final part or a procedure, essentially "discontinuing" a surgery before accomplishing all of the work listed in the code description, and this is where some question whether Modifier 53 should appropriately be reported instead of 52. However, a physician electing to eliminate the last portion of a procedure for a reason other than an extenuating circumstance/one that threatens the well-being of a patient should still be coded with Modifier 52, notwithstanding the fact that this decision to "eliminate" a portion of the service could constitute a "discontinuation" in a certain sense of the word.
###
Questions, comments?
If you have questions or comments about this article please contact us. Comments that provide additional related information may be added here by our Editors.
Latest articles: (any category)
CMS and HHS Tighten Enrollment Rules and Increase Penalties
October 1st, 2019 - Wyn Staheli, Director of Research
This ruling impacts what providers and suppliers are required to disclose to be considered eligible to participate in Medicare, Medicaid, and Children's Health Insurance Program (CHIP). The original proposed rule came out in 2016 and this final rule will go into effect on November 4, 2019. There have been known problems ...
Federal Workers Compensation Information
October 1st, 2019 - Wyn Staheli, Director of Research
When federal employees sustain work-related injuries, it does not go through state workers compensation insurance. You must be an enrolled provider to provide services or supplies. The following are some recommended links for additional information about this program. Division of Federal Employees' Compensation (DFEC) website Division of Federal Employees' Compensation (DFEC) provider ...
E-Health is a Big Deal in 2020
September 16th, 2019 - Chris Woolstenhulme, QCC, CMCS, CPC, CMRS
The new 2020 CPT codes are on the way! We are going to see 248 new codes, 71 deletions, and 75 revisions. Health monitoring and e-visits are getting attention; 6 new codes play a vital part in patients taking a part in their care from their own home. New patient-initiated ...
Chiropractic 2020 Codes Changes Are Here
September 9th, 2019 - Wyn Staheli, Director of Research
There are some interesting coding changes which chiropractic offices will want to know about. Are codes that you are billing changing?
Q/A: Is the Functional Rating Index by Evidence-Based Chiropractic Valid?
September 9th, 2019 - Wyn Staheli, Director of Research
Question Is the Functional Rating Index, from the Institute of Evidence-Based Chiropractic, valid and acceptable? Or do we have to use Oswestry and NDI? Answer You can use any outcome assessment questionnaire that has been normalized and vetted for the target population and can be scored so you can compare the results from ...
List of Cranial Nerves
September 3rd, 2019 - Find-A-Code
Cranial nerves are involved with some of our senses such as vision, hearing and taste, others control certain muscles in the head and neck. There are twelve pairs of cranial nerves that lead from the brain to the head, neck and trunk. Below is a list of Cranial Nerves and ...
So How Do I Get Paid for This? APC, OPPS, IPPS, DRG?
August 21st, 2019 - Chris Woolstenhulme, QCC, CMCS, CPC, CMRS
You know how to find a procedure code and you may even know how to do the procedure, but where does the reimbursement come from?  It seems to be a mystery to many of us, so let's clear up some common confusion and review some of the main reimbursement systems.  One of the ...