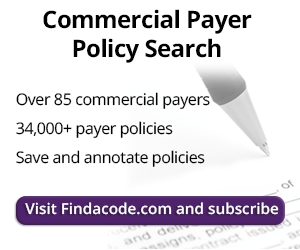 Medicare Announces Coverage of Acupuncture Services
January 30th, 2020 - Aimee Wilcox, CPMA, CCS-P, CST, MA, MT, Director of Content
0 Votes -

Sign in

to vote or comment.
---
On January 21, 2020, a CMS Newsroom press-release read,
"CMS finalizes decision to cover Acupuncture for Chronic Low Back Pain for Medicare beneficiaries"
This new announcement is both exciting and refreshing. Acupuncture, a key component of traditional Chinese medicine and most commonly used to treat pain, is now being officially recognized by Medicare and several other large payers as a covered, alternative treatment option for patients with chronic low back pain. A review of outcomes from several studies concluded that acupuncture improves health outcomes for Medicare beneficiaries with chronic low back pain.
With all eyes on the opioid crisis, providing coverage for acupuncture, an alternative therapy, is a strategic move in the challenge to lower dependence on prescription opioids.
In the press-release from Medicare, HHS Secretary, Alex Azar, stated,
"President Trump has promised to protect and improve Medicare for our seniors, and deciding to cover this new treatment option is another sign of that commitment. Medicare beneficiaries will now have a new option at their disposal to help them deal with chronic low back pain, which is a common and sometimes debilitating condition."
According to the changes made to the Social Security Act 1862(a)(1)(A), the newly approved acupuncture benefit will cover:
Up to 12 sessions in 90 days
An additional 8 sessions for those patients with chronic low back pain who demonstrate improvement.
Limitations include:
No more than 20 acupuncture treatments annually
Treatment must be discontinued if the patient is not improving or is regressing
Who Can Provide Acupuncture Services?
There are strict guidelines as to the type of providers who can furnish acupuncture services as defined in the SS Act; 1861(r)(1) regarding physicians and 1861(aa)(5) for nonphysician practitioners and auxiliary personnel. Individual state requirements must also be met.
Additionally noted is the requirement of:
A Masters or Doctoral-level degree in acupuncture or Oriental Medicine from a school accredited by the Accreditation Commission on Acupuncture and Oriental Medicine (ACAOM); and
A current, full, active, and unrestricted license to practice acupuncture in a State, Territory, or Commonwealth (i.e. Puerto Rico) of the United States, or District of Columbia.
NOTE: Auxiliary personnel furnishing acupuncture must be under the appropriate level of supervision of a physician, physician assistant, or nurse practitioner/clinical nurse specialist required by our regulations at 42 CFR §§ 410.26 and 410.27.
Documentation is the Key to Success
Medicare has strict rules that require the documentation to clearly show both
Medical necessity for the services rendered and,
Improvement in the patient's chronic low back pain attributable to acupuncture therapy.
This means it is going to be very important that the recommendation for acupuncture services is being made specifically for chronic low back pain.
Additionally, acupuncture services are reported based on the service being performed with or without electrical stimulation and time spent performing one-on-one patient contact services (e.g., evaluation, assessment, locating acupuncture points, prep, inserting and removing needles).
NOTE: It has been noted on audits that many providers are reporting codes based on the duration of time the needles were in the patient's body, which is incorrect.
Now that acupuncture is officially considered a covered treatment for Medicare (and several other payers) for the treatment of chronic low back pain, it will be very important to have your compliance plan updated to show documentation and coding policies for these services as audits of these services will soon follow.
If your organization performs or is planning on performing acupuncture services, now more than ever, it is important to understand how to properly document, code, and appeal services for Medicare beneficiaries. To assist you, innoviHealth has published an Acupuncture Reimbursement Guide available through our store at store.innovihealth.com.
###
Questions, comments?
If you have questions or comments about this article please contact us. Comments that provide additional related information may be added here by our Editors.
Latest articles: (any category)
A 2020 Radiology Coding Change You Need To Know
February 10th, 2020 - Aimee Wilcox, CPMA, CCS-P, CST, MA, MT, Director of Content
The radiology section of the 2020 CPT© has 1 new, 18 revised, and 14 deleted codes. Interestingly, six of the 14 deleted codes were specific to reporting single-photon computerized tomographic (SPECT) imaging services of the brain, heart, liver, bladder, and others. If your organization reports radiology services, it is...
Documenting telephone calls at your dental practice is just as important as documenting patient visits.
February 4th, 2020 - Christine Taxin
Documenting telephone calls at your dental practice is just as important as documenting patient visits. Similar to other documentation, the common rule when it comes to call documentation is that if it is not documented, it did not happen. Therefore, every clinically relevant telephone call should be documented. Clinically relevant calls ...
CPT 10-Year Historical Content - Now Available!
January 22nd, 2020 - Find-A-Code
Did You Know? We now offer Historical CPT Content in 2-year, 5-year, or 10-year options! Utilize access to specific CPT historical data for previous years using rules effective at that specific time. If you've added UCR fees to your account, you can use Historical CPT Content to view UCR fees from ...
Inadequate Exclusion Screenings Could Put Your Practice at Risk
January 21st, 2020 - Wyn Staheli, Director of Research
Exclusion screenings require far more than just checking a name on a federal database at the time you are hiring someone. Far too many providers don't realize that in order to meet compliance requirements, there is MUCH more involved. There are actually over 40 exclusion screening databases/lists that need to be checked.
Q/A: How do we Bill Massage Services?
January 21st, 2020 - Wyn Staheli, Director of Research
Question: We are adding a massage therapist soon and have some questions about billing their services.
Billing for Telemedicine in Chiropractic
January 14th, 2020 - Evan M. Gwilliam DC MBA BS CPC CCPC QCC CPC-I MCS-P CPMA CMHP
Many large private payers recognize the potential cost savings and improved health outcomes that telemedicine can help achieve, therefore they are often willing to cover it. While there are several considerations, there could be certain circumstances where telemedicine might apply to chiropractic care.
Non-Surgical Periodontal Treatment
January 14th, 2020 - Christine Taxin
AAP treatment guidelines stress that periodontal health should be achieved in the least invasive and most cost-effective manner. This is often accomplished through non-surgical periodontal treatment.Non-surgical periodontal treatment does have its limitations. When it does not achieve periodontal health, surgery may be indicated to restore periodontal health.SCALING AND ROOT PLANINGScaling ...