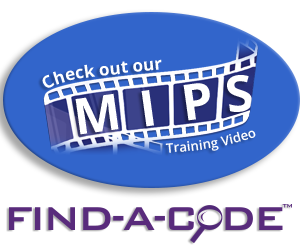 MIPS|PQRS|PQRI - Articles
Are you Ready for CMS' 2019 Medicare Physician Fee Schedule Final Rule?
November 7th, 2018 - Wyn Staheli, Director of Research
The waiting is over, the Final Rule for CMS' 2019 Medicare Physician Fee Schedule (MPFS) is available - all 2,379 pages for those looking for a little light reading. As anticipated, there are some pretty significant changes. Most of us were carefully watching the proposed changes to the Evaluation and ...
Risky Business The CMS HCC Risk Model
July 27th, 2018 - Terry Ketchersid, MD, MBA
Today's catchy title may invoke memories of that risqué movie from the 80's starring a young Tom Cruise famously dancing in his "tighty whities." But today's post is not about that type of risk. Instead we are going to spend some time with a risk adjustment model that's quietly become...
The Money in MIPS
June 15th, 2018 - Diana Strubler
Seema Verma, Administrator of the Centers for Medicare and Medicaid Services (CMS), recently announced that 91% participated in the first year of the Quality Payment Program (QPP), barely squeaking by their goal of 90%....
New Modifiers Released in 2018
February 13th, 2018 - Chris Woolstenhulme, QCC, CMCS, CPC, CMRS
There were 13 new modifiers released in 2018, be sure you are using them if appropriate.     FY X-ray taken using computed radiography technology/cassette-based imaging    JG Drug or biological acquired with 340b drug pricing program discount    QQ Ordering professional consulted a qualified clinical decision support mechanism for this service and the related data was ...
Using a 2015 Certified EHR in MIPS Year 2
February 1st, 2018 - Diana Strubler
The following information is from BC Advantage. As of Dec 31, 2017, Acumen EHR v8.0 achieved Office of the National Coordinator for Health Information Technology (ONC-Health IT) 2015 edition certification! What's a 2015 CEHRT?A CEHRT (Certified EHR Technology) is defined by CMS specifically for their incentive payment programs such as...
MIPS - To Participate or Not Participate - That is the Question
January 10th, 2018 - Wyn Staheli, Director of Research
Medicare's Merit-based Incentive Payment System (MIPS) Final Rule increased the threshold for participation. With this increase, a significant number of providers fall into the exempt category and they are now breathing a sigh of relief. However, there's one hidden tidbit which you may have missed - the potential damage to ...
New MIPS Reporting Option for 2017 Data
January 10th, 2018 - Wyn Staheli, Director of Research
On January 2, 2018, CMS announced a new data submission system for eligible clinicians to report quality measures for the Quality Payment Program. Data may be submitted through the new platform on the qpp.cms.gov website. The announcement stated: Data can be submitted and updated any time from January 2, 2018 to March ...
Prior years: (click bar to view articles)
Article categories