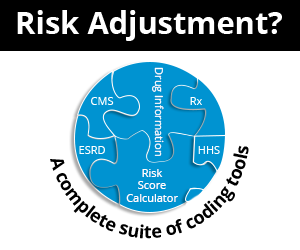 Denials & Denial Management - Articles
Healthcare Common Procedure Coding System (HCPCS)
August 13th, 2019 - Chris Woolstenhulme, QCC, CMCS, CPC, CMRS
There are three main code sets and Healthcare Common Procedure Coding System (HCPCS), is the third most common code set used. They are often called Level II codes and are used to report non-physician products supplies and procedures not found in CPT, such as ambulance services, DME, drugs, orthotics, supplies, ...
Are These Problems Hurting Your Practice?
July 22nd, 2019 - Wyn Staheli, Director of Research
There are many things that can be missed when trying to run an effective and profitable practice. This article covers some important tasks that are often overlooked such as not reviewing your payer contracts or failing to check eligibility.
Denial Management is Key to Profitability
July 15th, 2019 - Wyn Staheli, Director of Research
A recent article by Modern Medicine cited a report by Becker's Hospital Review which stated that it costs approximately $118 per claim to resolve a claim denial. Granted, these were hospital claims, but the process is essentially the same for outpatient services. In fact, you could say it is...
What Medical Necessity Tools Does Find-A-Code Offer?
June 13th, 2019 - Aimee Wilcox, CPMA, CCS-P, CST, MA, MT, Director of Content
Find-A-Code is a great resource for individuals working in all aspects of healthcare, from providers and ancillary staff to the attorneys and payers who assess and critique the documentation supporting the services performed. When recently asked what tools Find-A-Code has to help support medical necessity, our response was, "We provide many resources ...
What is Medical Necessity and How Does Documentation Support It?
April 23rd, 2019 - Aimee Wilcox, CPMA, CCS-P, CMHP, CST, MA, MT
We recently fielded the question, "What is medical necessity and how do I know if it's been met?" The AMA defines medical necessity as: It is important to understand that while the AMA provides general guidance on what they consider medically necessary services, these particular coding guidelines are generic and may be ...
Understanding NCCI Edits
February 20th, 2019 - Aimee Wilcox, CPMA, CCS-P, CMHP, CST, MA, MT
Medicare creates and maintains the National Correct Coding Initiative (NCCI) edits and NCCI Policy Manual, which identify code pair edits. When performed on the same patient, on the same day, and by the same provider, the secondary code is considered an integral part of the primary code, and payment for ...
Are You Protecting Your Dental Practice From Fraud?
January 10th, 2019 - Aimee Wilcox, CPMA, CCS-P, CST, MA, MT, Director of Content
With the expansion of dental coverage through Medicaid and Medicare Advantage plans, an ever-increasing number of dental claims have come under scrutiny for fraud. One such payer, Aetna, is actively pursuing dental fraud by employing their special investigative units (SIUs) to identify and investigate providers who demonstrate unusual coding and ...
Prior years: (click bar to view articles)
Article categories