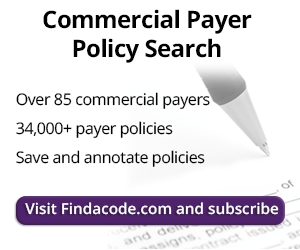 Reimbursement - Articles
Present on Admission POA Indicator
November 26th, 2018 - BC Advantage
This article will focus on the Present on Admission (POA) indicator which is used as a method of reporting whether a patient's diagnoses are present at the time they are admitted to a facility. We'll look at a few scenarios to determine the correct reporting of POA and the impact...
Are you Ready for CMS' 2019 Medicare Physician Fee Schedule Final Rule?
November 7th, 2018 - Wyn Staheli, Director of Research
The waiting is over, the Final Rule for CMS' 2019 Medicare Physician Fee Schedule (MPFS) is available - all 2,379 pages for those looking for a little light reading. As anticipated, there are some pretty significant changes. Most of us were carefully watching the proposed changes to the Evaluation and ...
Q/A: What Diagnosis Codes Should I Use for TMJ Headache Massage for Coverage?
October 16th, 2018 - Wyn Staheli, Director of Research
Question: We have been receiving several DDS referrals to our massage therapists who do intra-oral work. The only problem is that the referral from the DDS lists code R51 for headaches as the only DX code. Since most plans don't cover massage therapy for headaches alone, are there any codes that can distinguish the headaches as ...
Q/A: What Codes do I use for CLIA-Waived Tests?
October 16th, 2018 - Wyn Staheli, Director of Research
Question: I am a certified DOT medical examiner and have applied to get my CLIA lab (waiver) for urinalysis, finger prick blood tests for A1c, cholesterol and glucose. I realize I cannot diagnose patients with these tests, but I am using them to make decisions in the DOT process and with ...
Pelvic Floor Dysfunction Treatment Coverage
October 16th, 2018 - Wyn Staheli, Director of Research
Pelvic floor dysfunction is often the underlying cause of conditions such as pelvic pain; urinary or bowel dysfunction; and/or sexual symptoms. Treatment generally begins with an evaluation and testing (e.g, EMG) followed by a variety of services (e.g., biofeedback, manipulation, pelvic floor electrical stimulation), depending on the findings. Coverage by payers ...
HCC - Acceptable Provider Interpretation for Diagnostic Testing
October 1st, 2018 - Wyn Staheli, Director of Research
The following table is taken from the Contract-Level Risk Adjustment Data Validation Medical Record Reviewer Guidance dated 2017-09-27 (see References). It is a listing of acceptable provider interpretation of diagnostic testing. Acceptable Examples include: Cardiology and Vascular Surgeons Echocardiogram (including Doppler, Duplex, Color flow of the heart vessels) EKG (electrocardiogram) – Stress test, Cardiac ...
The Potential Impacts of a Flat Rate EM Reimbursement on our Industry
September 26th, 2018 - BC Advantage
The proposed E&M changes by CMS would decrease provider administrative work burden by, per CMS, 51 hours a year; however, how will reducing documentation requirements truly affect the professionals of the healthcare industry? First, let's discuss the 30,000-foot overview of the most impactful E&M changes—which is the change to the...
Getting the Right Eligibility Information for Payment Your Rights and Health Plans Requirement
September 11th, 2018 - BC Advantage
We need timely and accurate patient information to bill health plans and receive appropriate payment. Clinical information is, of course, important. But we also need the "administrative" data - patient demographics and especially the insurance information. Physician offices create their clinical information, but usually rely on patients for information on...
Pricing for ASC's and APC's
August 27th, 2018 - Chris Woolstenhulme, QCC, CMCS, CPC, CMRS
For Medicare purposes, an Ambulatory Surgical Center Resources (ASC) is a distinct entity that operates exclusively to furnish surgical services to patients who do not require hospitalization and in which the expected duration of services does not exceed 24 hours following admission. ASC payment groups determine the amount that...
Are incident to services worth the risk
August 13th, 2018 - BC Advantage
Incident-to services allow non-physician practitioners (NPPs) such as nurse practitioners and physician assistants to bill under a supervising physician if they perform services that are incidental to a physician-created plan of care. Incident-to billing offers two key benefits: First, the physician is reimbursed at 100% of the contracted rate with...
Provider-Based Facilities and Split Billing Is Your Facility Being Reimbursed for All Work Performed?
June 8th, 2018 - Sharon Hoglund, CPC, CPMA, CEMC, CEMA
Are you stumped by billing guidelines for provider-based facilities? Who bills for what and why? Read on to hear how a little extra time and effort spent on researching split billing coding guidelines can greatly impact your facility, and even your budget ensuring reimbursement for all services performed...
Three Ways Bundled Payments Can Be a Success
June 7th, 2018 - BC Advantage
Bundled payment models continue to attract interest for their potential benefits over traditional fee-for-service payment models. With bundled payments, also known as episode-based payments or packaged pricing, a group of providers is reimbursed based on a contracted price to cover all of the care and services related to a particular ...
UCR Pricing, What is it?
January 25th, 2018 - Chris Woolstenhulme, QCC, CMCS, CPC, CMRS
UCR (Usual, Customary, and Reasonable) pricing is a method of generating healthcare pricing based on the average pricing in a particular geographic location.  Gathering information on pricing based on what other providers in that area is charging is commonly used for a fee or payment reference, as it gives a basis ...
Prior years: (click bar to view articles)
Article categories