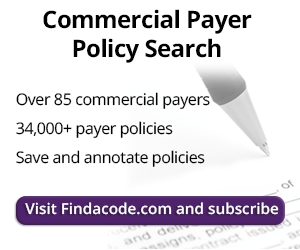 Compliance - Articles
Date of Service Reporting for Radiology Services
March 7th, 2019 - Wyn Staheli, Director of Research
Providers need to ensure that they are reporting radiology dates of service the way the payer has requested. Unlike other many other professional services which only have one date of service (DOS), radiology services can span multiple dates. Medicare requirements may differ from professional organization recommendations.
Answers to Your Auditing & Compliance Questions
March 4th, 2019 - Namas
National Alliance of Medical Auditing Specialists (NAMAS) hosts a forum where auditing and compliance professionals can get answers to their questions, and exchange information with other professionals across the country. Recently, we've received the following question regarding fracture care that we'd like to share below. Q: I recently noticed CPT 26600, ...
Understanding NCCI Edits
February 20th, 2019 - Aimee Wilcox, CPMA, CCS-P, CMHP, CST, MA, MT
Medicare creates and maintains the National Correct Coding Initiative (NCCI) edits and NCCI Policy Manual, which identify code pair edits. When performed on the same patient, on the same day, and by the same provider, the secondary code is considered an integral part of the primary code, and payment for ...
Proposed Rule: Expanded Telemedicine Benefits for Medicare Advantage Beneficiaries
February 14th, 2019 - Aimee Wilcox
Telemedicine continues its rise, with new technologies allowing for better communication and access to more aspects of healthcare than ever before. Each year Medicare has made strides, albeit small strides, in their telemedicine coverage while commercial payers continue to make great strides, constantly improving and expanding telemedicine service offerings to ...
Charging Missed Appointment Fees for Medicare Patients
February 7th, 2019 - Wyn Staheli, Director of Research
Some providers mistakenly think that they cannot bill a missed appointment fee for Medicare beneficiaries. You can, but Medicare has specific rules that must be followed. These rules are outlined in the Medicare Claims Policy Manual, Chapter 1, Section 30.3.13. You must have an official "Missed Appointment Policy" which is ...
Prior years: (click bar to view articles)
Article categories