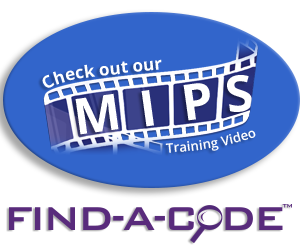 Compliance - Articles
We've Always Done It This Way and Other Challenges in Education
October 19th, 2018 - BC Advantage
As coders, auditors, and compliance professionals, we are the provider's advocates in closing the gap between what is medically necessary and what is required for documentation. Sometimes that places us in the role where we need to save our clinicians from themselves, and the patterns they have fallen into...
Pricing for ASC's and APC's
August 27th, 2018 - Chris Woolstenhulme, QCC, CMCS, CPC, CMRS
For Medicare purposes, an Ambulatory Surgical Center Resources (ASC) is a distinct entity that operates exclusively to furnish surgical services to patients who do not require hospitalization and in which the expected duration of services does not exceed 24 hours following admission. ASC payment groups determine the amount that...
Scoring & Reporting Your Audit Findings
February 2nd, 2018 - Shannon DeConda, CPC, CPC-I, CEMC, CEMA, CPMA, CRTT
This week we had a great question posted to our online forum, and I thought it would be a nice thought- provoking question for our auditing and compliance tip of the week.
Are Your Computers Vulnerable to Cyber Attacks?
February 1st, 2018 - Wyn Staheli, Director of Research
Healthcare providers must be vigilant in ensuring that software upgrades, also known as patches, are kept current. Failure to do so can lead to a HIPAA Security Breach with all its associated penalties. For example Windows XP no longer has security updates and should not be used in healthcare settings. On ...
Traumatic Subluxation Coding Controversy
February 1st, 2018 - Wyn Staheli, Director of Research
There has been some controversy over the use of the ICD-10-CM subluxation codes commonly referred to as traumatic (S13.1-, S23.1-, and S33.1-). Are they appropriate for chiropractors to use? The answer to that question is complicated. The problem basically lies in the lack of official guidance and differing opinions on ...
Two of the Largest Public-Private Health-Care Forms a New Partnership.
February 1st, 2018 - Chris Woolstenhulme, QCC, CMCS, CPC, CMRS
CMS announced today, "VA, Health and Human Services Announce Partnership to Strengthen Prevention of Fraud, Waste and Abuse Efforts".   This new alliance will allow the VA access to CMS' program integrity protocols which will enable them to close existing gaps in their claims payment process. CMS stated in the announcement today, "CMS ...
Creating a Culture of Compliance in 2018
January 26th, 2018 - Sean M. Weiss, CHC, CEMA, CMCO, CP MA, CPC-P, CMPE, CPC
This year (2018), health care organizations (Hospitals, Health Systems and Physician Groups/Practices) must focus on the criticality of creating a culture of compliance to ensure effectiveness and efficiency....
Compliance: What is it and Why is it Important
January 22nd, 2018 - Joan S. Hartman, RHIT
Compliance. It is one of the buzz words in healthcare that is heard all the time but what is it really, and why is it so important?
MIPS - To Participate or Not Participate - That is the Question
January 10th, 2018 - Wyn Staheli, Director of Research
Medicare's Merit-based Incentive Payment System (MIPS) Final Rule increased the threshold for participation. With this increase, a significant number of providers fall into the exempt category and they are now breathing a sigh of relief. However, there's one hidden tidbit which you may have missed - the potential damage to ...
Prior years: (click bar to view articles)
Article categories