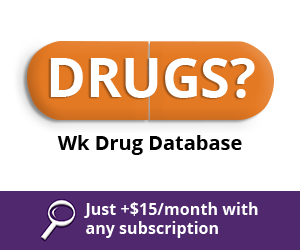 Compliance - Articles
2020 Official ICD-10-CM Coding Guideline Changes Are Here!
October 1st, 2019 - Wyn Staheli, Director of Research
It's that time of year for offices to get ready for the ICD-10-CM code revisions. As part of that process, it's also good to know what is going on with the ICD-10-CM Official Guidelines for Coding and Reporting. In the examples listed below, strikeout text is deleted and highlighted text ...
Will Medicare Change Their Rules Regarding Coverage of Services Provided by a Chiropractor?
August 13th, 2019 - Wyn Staheli, Director of Research
Two separate pieces of legislation introduced in the House of Representatives (H.R. 2883 and H.R. 3654) have the potential to change some of Medicare's policies regarding doctors of chiropractic. Find out what these two bills are all about and how they could affect Medicare policies.
Are These Problems Hurting Your Practice?
July 22nd, 2019 - Wyn Staheli, Director of Research
There are many things that can be missed when trying to run an effective and profitable practice. This article covers some important tasks that are often overlooked such as not reviewing your payer contracts or failing to check eligibility.
Denial Management is Key to Profitability
July 15th, 2019 - Wyn Staheli, Director of Research
A recent article by Modern Medicine cited a report by Becker's Hospital Review which stated that it costs approximately $118 per claim to resolve a claim denial. Granted, these were hospital claims, but the process is essentially the same for outpatient services. In fact, you could say it is...
Q/A: Can I Put the DC's NPI in Item Number 24J for Massage Services?
July 8th, 2019 - Wyn Staheli, Director of Research
Question: Are there scenarios in which it is acceptable to put the DC's NPI in box 24j for massage services? Answer: While the answer to this is yes, it is essential to understand that there are very limited scenarios. In most cases, Item Number 24J is only for the NPI of the individual ...
Q/A: Do I Really Need to Have an Interpreter?
July 1st, 2019 - Wyn Staheli, Director of Research
Question: I heard that I need to have an interpreter if someone who only speaks Spanish comes into my office. Is this really true? Answer: Yes! There are both state and federal laws that need to be considered. The applicable federal laws are: Title VI of the Civil Rights Act of 1964, Americans with Disabilities ...
Rules for Rendering Unproven, Investigational or Experimental Procedures
July 1st, 2019 - Brandy Brimhall, CPC, CMCO, CCCPC, CPCO, CPMA
If you haven't reviewed your state guidelines or taken a recent look at third-party payer policies on unproven, investigational or experimental procedures, now is the perfect time to make sure you're up to speed with this important information. Most providers are surprised to see commonly used devices or techniques listed ...
2018 Medicare Improper Payment Report Shows Slight Improvement but There's Still Work to be Done
June 27th, 2019 - Wyn Staheli, Director of Research
The Medicare Improper Payment Report for 2018 is not a measurement of fraud. Rather, it is an estimate of the claims paid by Medicare which did not meet Medicare coverage, coding, and billing rules. The estimated Medicare FFS payment accuracy rate (claims paid correctly) from July 1, 2016 through June 30, 2017, was 91.9 percent. ...
Q/A: Can I Refuse to File a Patient's Medical Insurance for an Auto Accident?
June 25th, 2019 - Wyn Staheli, Director of Research
Question: Can a Chiropractor refuse to file a patients Medical Insurance for an Auto Accident? Answer: There isn't a simple answer to this question. It depends on who is responsible and state laws. Who is responsible (the auto insurance or the medical insurance) can depend on state requirements as well as who is ...
Small Breaches Can Be Subject to Large Penalties
June 21st, 2019 - Namas
Small Breaches Can Be Subject to Large Penalties We may have heard about the large fines issued by the Office for Civil Rights (OCR) against big organizations like Anthem or the University of Texas MD Anderson Cancer Center. These organizations have been in the news due to privacy breaches that constituted violations ...
What Medical Necessity Tools Does Find-A-Code Offer?
June 13th, 2019 - Aimee Wilcox, CPMA, CCS-P, CST, MA, MT, Director of Content
Find-A-Code is a great resource for individuals working in all aspects of healthcare, from providers and ancillary staff to the attorneys and payers who assess and critique the documentation supporting the services performed. When recently asked what tools Find-A-Code has to help support medical necessity, our response was, "We provide many resources ...
Q/A: Two Payers Both Paid the Claim. Who Gets the Refund?
May 13th, 2019 - Wyn Staheli, Director of Research
Question We have a personal injury situation where we submitted a claim was sent to the patient's auto policy carrier who refused payment. We then submitted it to her other insurance. Eventually, both companies paid her claims. Her auto paid at full value, and her secondary paid at a reduced rate ...
Q/A: I'm Being Audited? Is There a Documentation Template I can use?
April 29th, 2019 - Wyn Staheli, Director of Research
Question: Our Medicare contractor is auditing claims with 98942. Do you have any suggestions for a template for documentation to warrant the use of 98942? Answer: When you submit a claim with code 98942 you are stating that you have determined that it was medically necessary to adjust all 5 of ...
OIG Announces - New Review For Medicare Part B Payments for Podiatry and Ancillary Services
April 23rd, 2019 - Chris Woolstenhulme, QCC, CMCS, CPC, CMRS
Due to prior OIG work identifying inappropriate payments for podiatrists and ancillary services, the OIG announced in Feb 2019 they will begin a new review starting in 2020.  The OIG stated they will review Medicare Part B payments to determine if medical necessity is supported in accordance with Medicare requirements.   Part of the ...
Watch out for People-Related 'Gotchas'
April 15th, 2019 - Wyn Staheli, Director of Research
In Chapter 3 — Compliance of the ChiroCode DeskBook, we warn about the dangers of disgruntled people (pages 172-173). Even if we think that we are a wonderful healthcare provider and office, there are those individuals who can and will create problems. As frustrating as it may be, there are ...
Prepayment Review Battle Plan
April 8th, 2019 - Wyn Staheli, Director of Research
Any type of payer review can create some headaches for providers and cause problems for a healthcare office. Even for a practice that has taken administrative steps to try and prevent a prepayment review, it can still happen. A prepayment review means that you must include documentation WITH your claim. ...
Clearing Up Some Medicare Participation Misunderstandings
March 25th, 2019 - Wyn Staheli, Director of Research
Even though we may think we truly understand what it means to be a participating provider, Medicare doesn't quite work the way that other insurance plans do. Far too many providers do not understand the difference and get into hot water. To further complicate matters, the rules are different for ...
Q/A: How do we Know Which Codes a Payer Will Allow?
March 22nd, 2019 - Wyn Staheli, Director of Research
How do we know which codes a payer will allow? The best way to determine the codes (CPT, ICD-10-CM and HCPCS) allowed by a payer is to review their payer policy. While it is good to know the official guidelines (e.g., ICD-10-CM Official Guidelines for Coding and Reporting, AMA Guidelines, Medicare ...
Date of Service Reporting for Radiology Services
March 7th, 2019 - Wyn Staheli, Director of Research
Providers need to ensure that they are reporting radiology dates of service the way the payer has requested. Unlike other many other professional services which only have one date of service (DOS), radiology services can span multiple dates. Medicare requirements may differ from professional organization recommendations.
Answers to Your Auditing & Compliance Questions
March 4th, 2019 - Namas
National Alliance of Medical Auditing Specialists (NAMAS) hosts a forum where auditing and compliance professionals can get answers to their questions, and exchange information with other professionals across the country. Recently, we've received the following question regarding fracture care that we'd like to share below. Q: I recently noticed CPT 26600, ...
Understanding NCCI Edits
February 20th, 2019 - Aimee Wilcox, CPMA, CCS-P, CMHP, CST, MA, MT
Medicare creates and maintains the National Correct Coding Initiative (NCCI) edits and NCCI Policy Manual, which identify code pair edits. When performed on the same patient, on the same day, and by the same provider, the secondary code is considered an integral part of the primary code, and payment for ...
Proposed Rule: Expanded Telemedicine Benefits for Medicare Advantage Beneficiaries
February 14th, 2019 - Aimee Wilcox
Telemedicine continues its rise, with new technologies allowing for better communication and access to more aspects of healthcare than ever before. Each year Medicare has made strides, albeit small strides, in their telemedicine coverage while commercial payers continue to make great strides, constantly improving and expanding telemedicine service offerings to ...
Charging Missed Appointment Fees for Medicare Patients
February 7th, 2019 - Wyn Staheli, Director of Research
Some providers mistakenly think that they cannot bill a missed appointment fee for Medicare beneficiaries. You can, but Medicare has specific rules that must be followed. These rules are outlined in the Medicare Claims Policy Manual, Chapter 1, Section 30.3.13. You must have an official "Missed Appointment Policy" which is ...
Prior years: (click bar to view articles)
Article categories